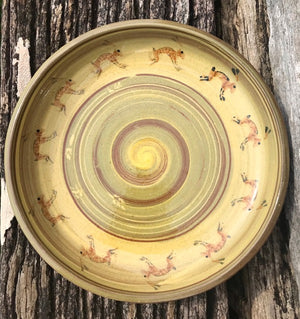 Tyrii Pottery began in 1997 on the small Island of Tiree in the Inner Hebrides, located off the West coast of Scotland. The spelling Tyrii comes from Alan Stevenson's maps used during the building of Skerryvore Lighthouse in 1836. The family business is run by mother and daughter, Jean and Helen, who produce earthenware pottery in vibrant colours.
Influenced by the land and seascape of Tiree, the pottery is slipped and decorated to achieve the vibrant colours. Each piece is hand-made and decorated with a large variety of designs inspired by their environment. Hares, lobsters, oystercatchers, basking sharks, wagtails, mackerel and seals are a few of the many Tiree creatures that find their way onto their pots.
All of the pots are either thrown on the potter's wheel, coiled or slab built. Shapes and designs are ever changing. Many pieces are one-offs while others are part of complete ranges. The pots are twice-fired, to a final temperature of 1090°C, making the finished ware suitable for oven use.
Please note that we currently only take online orders for delivery in the UK.
Information on postage costs, delivery times, returns & care of the pottery on our FAQ page here.
Many pieces are produced in limited runs and may not be available in future. 

Larger pieces are not shown online and are only available direct from the workshop on Tiree.